Vincent Lamouroux

"Artist to Watch"


by Susannah Tantemsapya
Whitewall Magazine - The Art Issue
(Spring 2014)

Vincent Lamouroux conceptualizes and builds large-scale, site-specific, self-described "sculpture places." His work is polysemic in nature, influenced by architecture, velocity, desire, frustration, and creative destruction. From Utah's Bonneville Salt Flats to Maubuisson Abbey in France, Lamouroux seeks to transform a space through exploring phenomena [KMJ1] , perception, space, time, and poetry in prose. Inspired by Freud's affective circuit, his creative drive is to inform, uplift, and contribute to the social sphere.
Whitewall
spoke with this Paris-based artist about his dynamic practice and his latest project.
WHITEWALL:
How did you begin making large-scale installations? What is your relationship to public art?
VINCENT LAMOUROUX:
I would say that my main interest is, first of all, the notion of site, such as commonly referred to by Minimal and Conceptual artists. Most of my sculptures and installations indeed deal with the context in which they are shown, and interact more or less with it, but there isn't necessarily an attempt to possess any kind of given space. I view my sculptures as either challenging their surrounding, or bringing new perspectives on it. I also try to engage not only the vision, but also the entire body of the viewer, to experience the work in its entirety.
Most of my works were created not only to respond to a specific architectural context (a gallery, a museum, a hotel, a former cinema, a chapel, a group of trees in a park), but also to possibly invite the viewer to experiment with the site and/or the work within the site. Architecture has definitely partly shaped my way of seeing, for lots of different reasons: observing the scale of buildings, the materials used, and all different kinds of shapes within urban surroundings are endless stimulations. But I am not an architect and the way I work is very different, even if it could seem close on some aspects. Though I use construction materials such as wood, metal, lights, and paint, and like the idea of being a builder, sculptures are devoid of use and built above all to arouse the viewer's imagination . . .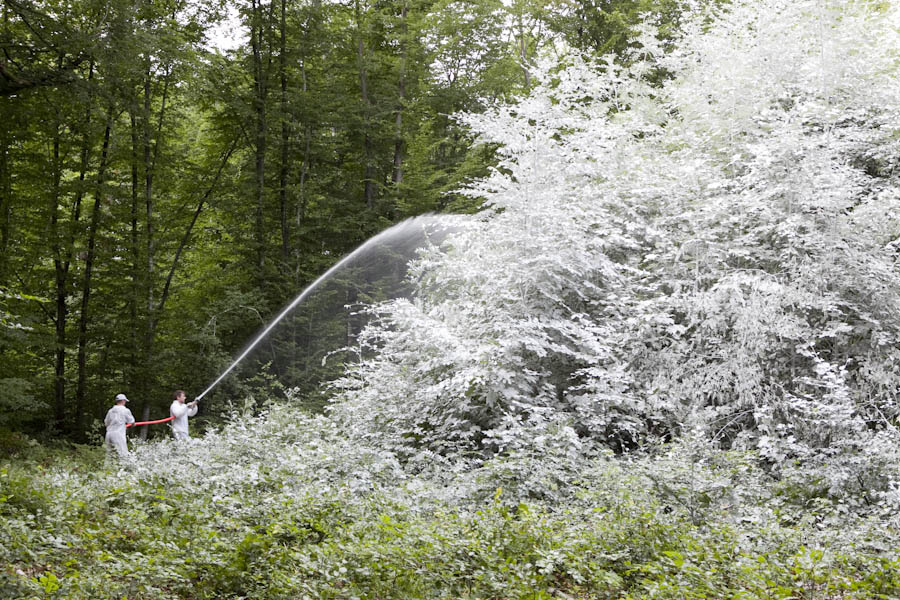 WW: How does the public respond to your work?

VL: I like the idea of a work of art as an addressee to the public who becomes an addressee to the public who becomes an addresser, what it (a work) [KMJ3] sets in action in such way that it engenders another work. In other words, to look at, to feel and experience a work of art, is the trigger for the one who looks and feels, a process of emotion that is movement, a question of motion. I do not attempt to answer to anything, but, rather, to open up questions and reflection.


WW: In 2012, the Petit Ermitage hosted you as an artist-in-residence for a month while you were installing your work for "LOST (in LA)," an exhibition curated by Marc-Olivier Wahler. You are returning to Los Angeles to create a permanent sculpture for the hotel. Can you elaborate on this project?




VL:

I don't have a title for this work yet. Titles usually come in the end, as a result of all my readings and track of thoughts regarding the creation of a work. What I've imagined for the Private Rooftop Club is a large-scale geometric sculpture placed on the Firedeck, encompassing it and visible from each one of the rooftop parts. When I say "encompassing," it is more of a metaphor than an actual reality: The sculpture refers to an entire globe but only shows less than half of it and doesn't hide or constrain the building. As mentioned by Rem Koolhaas, a globe is not only "mathematically the form that encloses the maximum interior volume with the least external skin and has a promiscuous capacity to absorb objects, people, iconographies, and symbolism," but it is also physical, visual, and mental space; it offers and provides an extra and imaginary space as we get closer to the sky.

The globe/dome indeed doesn't entirely exist: Half of it only exists in thoughts; half is installed and visible. Guests will be able to imagine the spread of its entirety. Despite its scale, I want this work to be visually and physically as light as possible, more transparent than opaque, more airy than stuffed, so one can get the feeling that the Firedeck is a one-of-a-kind nest arrayed by this part-imaginary dome. The material used to build the sculpture should be oak wood entwined with flowering vegetation. Composed of large triangles assembled together, the sculpture will provide a frame through which multiple perspectives, views, point of views can be seen. Each triangle-shaped fragment will act like a screen that seizes the landscape and the cityscape. Like when one on top of the Hollywood Hills looks over the city through a telescope, the sculpture will offer the viewer the chance to see the surrounding view through a work of art. This work came to my mind instantly when on the rooftop, and that I've tried to work out so it could become somehow magical.



- Print -