Zefrey Throwell

Entropy Symphony: Movement III

February 2012
by Susannah Tantemsapya


Driving can be quite a maddening experience in Los Angeles. But can it become something else, something beautiful? What if our car horns become instruments of love?

That is intent behind the third movement of the Entropy Symphony, the brainchild of Zefrey Throwell, a New York based multi-disciplinary artist and self-proclaimed "troublemaker."


This large scale performance includes 1,000 car horns diffused across the streets of Los Angeles at 6:00pm on February 15th for five minutes.
How it works:
Email

info@nomadicdivision.org

Receive an MP3 based on the pitch of your horn (each make/model is grouped to perform various parts)
Play along with the MP3 from 6:00-6:05pm wherever you happened to be in the city
Record your performance for inclusion on

zefrey.com

and in future public exhibitions around the world
et voilà, you are part of the one of the largest symphonies in history
Background:

Entropy, the second law of physics, historically has been viewed as the "law of disorder."
In 2010,
the first movement
had 75 performers create five minutes of chaos throughout the 6 levels of the Whitney Museum in New York. This symphony was played via the security guards' walkie talkies as they responded to 25 "emergencies" simultaneously.
Last winter,
the second movement
organized 100 people evenly throughout downtown Berlin to play air horns for again, five minutes. Each horn was tuned to a different note, and each person received sheet music with timed notes. The city became the instrument, the "resonating chamber" singing a song to its people.
A. P. C


Celebrating Five Years in Los Angeles

March 2012
by Susannah Tantemsapya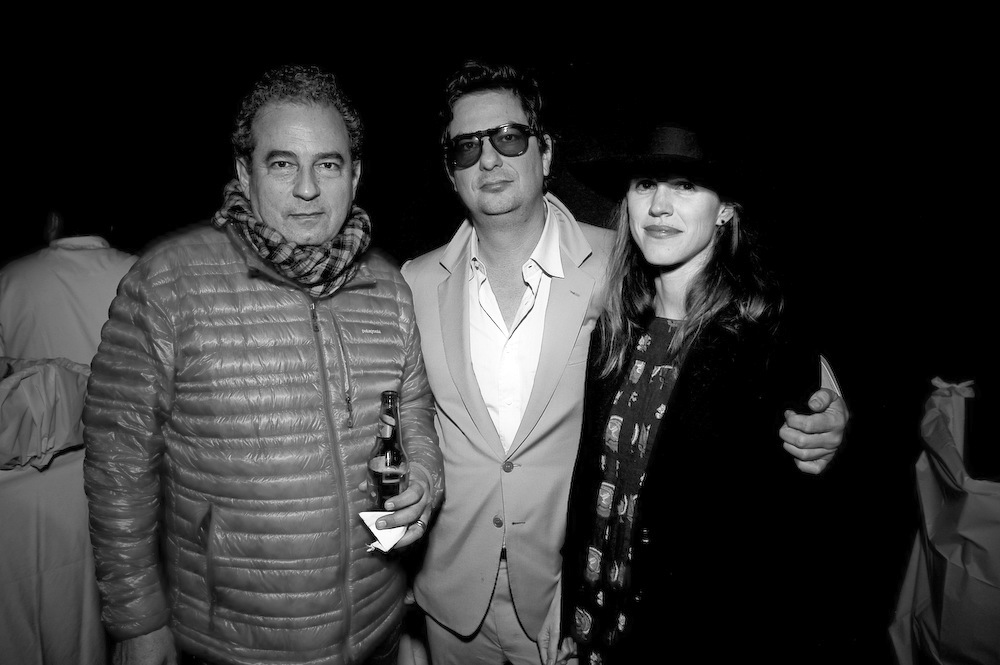 Just days after opening his latest location in the West Village, A.P.C.'s founder, Jean Touitou, arrived in Los Angeles to throw an intimate fête for the store's fifth year anniversary on the West Coast.

In honor of this occasion, Whitewall spoke with Touitou about how creativity influences not only his work, but his life.




Whitewall: A few years ago, you said in an interview for W Magazine: "I think it's only by attempting to create something beautiful that you manage to have a bearable existence." It seems like all your work is around this concept: mixing creativity and business together.


Jean Touitou: Indeed, I could easily be one more "zero" richer, but I have enough of a very comfortable life, so I will not complain. I don't feel more intelligent or happier if I have more money... For example, I could open 10 stores a year. I have the bank to do that, but I like that every store is thought about: the architect can travel, come see it, get the vibe of the place and do a different project every time... To be creative or to have a project in general is that one thing that can take you away from observing that big, dark hole of life. Let's face it, the fear of death is with every human being. So, there's many ways to escape from it. Some people take drugs, booze, religion, many things, still it's there. The way I find to make it possible–bearable–is to do creative stuff at any level. That also could be cooking at home by the way.




WW: I was at the Los Angeles opening five years ago. It was a very big deal that A.P.C. opened a second store in the United States because only the New York flagship store existed. There was a lot of planning and detail in designing this store. All your stores are different and built for the environment, can you elaborate on that?

JT: I find it very sad and depressing to have one formula that works and branch out everywhere. I know some people do it: McDonald's or Louis Vuitton, if you will. They have one formula, and they go over and over. I don't like it... I might open something in Venice (CA), and it will be definitely different than what we just opened in the West Village in New York on West 4th Street.






WW: You open stores in locations where you have a connection to the city, right?

JT: Absolutely yes, for example I won't go to Dubai. They don't like me, I don't like them. It's as easy as that. Everybody is so excited with China: "Yeah, let's open 20 stores in China!" I don't. One project we did in Beijing and one in Shanghai. I think that will be it. You cannot be good everywhere. I don't have too much of the logo thing out myself, so it won't work there. It works pretty well in Hong Kong because people have a fashion culture there, but China, no.


WW: You strive to live a balanced life and that is exemplified through the culture of A.P.C. because it's very simple, minimal, classic and dependable. There is an importance of music and other creative aspects that go into the stores. Can you tell me what you are interested in now, that's happening in culture with music or art?



JT: Art really bores the shit out of me to tell you the truth. I think that art is too much show business now. There's no such thing as conceptual art. It's just a big scam to sell to rich people. Conceptual art is philosophy to me, period. It's funny, I just turned 60 and I only listen to classic music, jazz and hip hop. Seriously, with the same pleasure I could listen to Wagner or Niggas in Paris with my earphones, very focused. You cannot love everything, so it's good to focus on precise things.



WW: I saw you tweet about that song.

JT: I tweeted about Niggas in Paris because I was actually having some time with Kanye (West) in Paris. We were having dinner, and he said "Yo, what's the taste of caviar?" I said, "Man, you gotta do something (called) Niggas in Paris." So he did. I think he and Jay-Z are very talented guys. I saw their performance in New York twice, very good. I think now culturally it's the same story. I think the influence of the Stalinist intellectuals of the 60's is about to be finished now. I hope the world will be ready for a more Nietzschean approach. I know it sounds big, but that's the truth.
Public Notice: A Green Patriot Salon

May 2012
by Susannah Tantemsapya
Public Notice: A Green Patriot Salon opened April 21st as the first comprehensive exhibition of the acclaimed multi-media design campaign about climate change Green Patriot Posters.
The show featured contemporary artists such as Shepard Fairey, DJ Spooky, Mike Perry, Vier5 and Geoff
McFetridge. It also debuted emerging designers like Mathilde Fallot and Kenzo Minami who submitted their works through the campaign's open-source website.
The salon's goal was to create collective action through art by posing the question: "What can I do to help promote sustainability?"
This ongoing campaign has already reached 4-5 million through bus ads, billboards, magazines, a sustainablypublished book with Metropolis Books, museum exhibitions such as Graphic Design: Now In Production (Cooper-Hewitt/Walker Art Center) and a documentary film called Post New Bills by Creative Migration.
Sponsored by
350.org
, Human Impacts Institute and AIGA/NY. Curated by The Canary Project and Ken Miller. Hosted by Ed. Varie in New York City.
---
Deedee Cheriel
September 2012
by Susannah Tantemsapya
With two successful recent European exhibitions and an unexpected marriage proposal, the future looks quite bright for Los Angeles based artist

Deedee Cheriel

.
Closing on Sept 23, Cheriel is part of the group show "
Unnatural Natural History
" curated by
Coates and Scarry
at Royal West of England
A
cademy in Bristol. Her work, along with 38 international artists, explore the notion of an alternative world and the meaning of 'Natural History' through paintings, photography, drawings, sculptures and installations.
Her first show in Amsterdam, 'Just Passing Through' opened on September 1 at
Battalion
.
Cheriel utilizes East Indian temple imagery to explore human relationships. The Pacific Northwest counter-culture of her youth creates the backdrop to her work's environments. Spirituality, nature and group interactions are common elements for this artist.


"Living with a sick boyfriend, trying to connect with girlfriends of different racial and social standings, trying to overcome difficult life situations become anthropomorphic characters in my paintings. I use animals and elements from my natural environments to depict human emotions... These stories and images are indications of how we try to connect ourselves to others and how these heroic efforts are episodes of compassion and discomfort.
Cheriel's engagement happened just days after her Amsterdam exhibition while on holiday in Vienna.
---
Ken Price Sculpture: A Retrospective at the LACMA

September 2012
by Susannah Tantemsapya
Ken Price Sculpture: A Retrospective
opens on September 16, 2012 at the Los Angeles County Museum of Art (LACMA). Spanning over 50 years of the artist's career, Price worked closely on this exhibition until two weeks before his passing in February.
The exhibition is installed in reverse chronological order, and is designed by architect Frank O. Gehry, a close friend of Price since the 1960s. The layout is an intimate environment with a majority of the pieces outside the constraints of glass cases.
The planning process started three years ago. Price was closely involved in all aspects of the selection and presentation with Gehry and curator Stephanie Barron.
He used color, texture, shape and technique to push the traditional boundaries of ceramics. The sensual nature of his iconic "Eggs" (1961-64) – covered with automobile paint and ceramic glazes – is a clear example that clay can be more than a craft.

After being diagnosed with cancer in 2007, Price spent his remaining years in Taos, New Mexico producing some of his most challenging work. His practice expanded into the intriguing Works on Paper (2000-2008) influenced by the landscape in Taos – where the desert meets the sky. In 2010, he began his most ambitious and complicated Large-Scale Sculptures, establishingStudio B with his son, Jackson.

The prolific and spiritual characteristics of The Late Sculptures are his self-proclaimed "golden period," considering "the highway to the unconscious... in the place where you're open, your mind goes quiet, and before long all kinds of possibilities come."

The press opening and memorial service this past Wednesday was a celebration of his life and art. Many friends and family attended from New Mexico. A close family friend told me that Ken Price and his wife, Happy, were the first example of what a truly loving, healthy relationship was to her.
On October 4, 2012, there will be a
free jazz concert
featuring his influences Chet Baker and Miles Davis. Price took trumpet lessons from Baker at the age of 18 in Los Angeles and "functioned as sort of a groupie" to that scene.
The retrospective will travel to the Nasher Sculpture Center, Dallas, Texas (February 9–May 12, 2013), and the Metropolitan Museum of Art, New York (June 18–September 22, 2013).
---
An Evening with Grace Coddington

December 2012
by Susannah Tantemsapya
Photos by Andreas Branch/Patrick McMullan.com



LACMA's Costume Council hosted a sold-out evening with American Vogue Creative Director, Grace Coddington, and filmmaker RJ Cutler on December 10th.

Their candid and lively conversation featured Coddington's new autobiography, Grace: A Memoir, that chronicles her 50 year career in the fashion world. The shy and down-to-earth former model turned magazine editor became an instant celebrity in Cutler's 2009 documentary,The September Issue. They both recalled her first adamant refusal and then reluctant participation in the film. It was her soft-spoken demeanor and incredible talent that allowed Coddington to unknowingly steal the spotlight from Anna Wintour in Cutler's narrative.



The event's audience was stunning: from well-placed millinery to exploding colors and patterns. It is safe to assume everyone there had been influenced by Coddington's impressive photo spreads for Vogue. Notable guests included iconic fashion photographer Peter Lindbergh; supermodels Amber Valletta and Cindy Crawford; and Rodarte's Kate and Laura Mulleavy.
Coddington spent the entire reception signing books for almost everyone in attendance. With her long, red mane and all black attire, her presence was well, graceful.

Whitewall spoke to RJ Cutler at the event about what's happening with Coddington now and future plans.

WW: How has Grace Coddington's public life changed since the release of your film?

RJ Cutler: You'd have to ask her but she's told me that when she walks through Chelsea she feels like one of the Beatles...

WW: What was it like to reunite at this event?

RC: We had such a great time doing the event and celebrating afterwards, but maybe the best part was getting to spend time together preparing the presentation. Grace is quite a task-master, you know, so it was fun to see her cracking the whip. I'm hoping we can do a combination of The September Issue screening and book-signing sometime soon. And when her memoir is translated to French I really want to do the LACMA event somewhere in Paris.

WW: Do you have any plans to work with her again in the future?
RC:
We are desperate to turn Grace and Didier's book Catwalk Cats into an animated film. We're just seeking a financier to get us going. How rich are your readers??
---



Tony Matelli
Abandoned weed, 2009
Painted bronze Collection Loevenbruck, Paris Credits: France Los Angeles Exchange (FLAX)
December 2012
by Susannah Tantemsapya
LOST (in LA) is a collaboration between French and LA artists curated by Marc-Olivier Wahler, the former director of Palais de Tokyo. It connects a narrative between the popular television series LOST and the geographic sprawl of Los Angeles.
This exhibition consists of 60 works from artists including Stephan Balkenhol, Michel Blazy, André Breton, Valentin Carron, Guy de Cointet, Philippe Decrauzat, Bertrand Dezoteux, Daniel Dewar & Gregory Gicquel, Vincent Ganivet, Camille Henrot, Thomas Hirschhorn, Fabrice Hyber, Nathan Hylden, Mike Kelley, Robert Kinmont, Vincent Lamouroux, Laurent Le Deunff, René Magritte, Man Ray, Tony Matelli, Philippe Mayaux, Mathieu Mercier, Laurent Montaron, Robert Overby, Julien Prévieux, Jim Shaw, Alexandre Singh, Tatiana Trouvé, Oscar Tuazon, Jean-Luc Verna, Robert Watts and Marnie Weber.
Philippe Decrauzat
Night, 2004
Wood, acrylic
Collection Loevenbruck, Paris Courtesy of Galerie Braz Delavallade, Paris

---
Valentin Carron
Mate archaïque cercle (Frost archaic circle), 2011
Cast bronze, black lacquer, wooden box with butt hinge
Courtesy the Artist and Galerie Eva Presenhuber, Zurich
Photo: France Los Angeles Exchange (FLAX)


Philippe Mayoux
Idole, 2012
Stereolithographic resin, metal and paintings tempera on wood
All works courtesy of Galerie Loevenbruck, Paris
Photo: FLAX









Vincent Ganivet
Wheels, Los Angeles Issue, 2012 Courtesy of West et Yvon Lambert Produced by FLAX

---
Ceiling :
Vincent Lamouroux
Milieu, 2012
Fiberboard by Noble Environmental Technologies ©ECOR
Courtesy of the Artist
Produced by FLAX
Photo: France Los Angeles Exchange (FLAX)


Julien Previeux
What shall we do next?, 2011
Overhead projector and media player
Courtesy Galerie Jousse Entreprise








It's a very edgy, impressive dialogue with varying degrees of being "lost." Each section builds upon the next, from a room filled with Jim Shaw's personal collection of Jesus ephemera to a gallery of contemporary French drawings intermixed with older work such as a photograph of Dorothea Tanning by Man Ray.
This is the premiere of many Franco-Angeleno exhibitions presented by FLAX (France Los Angeles Exchange) in partnership with the Palais de Tokyo, Paris, and the City of Los Angeles Department of Cultural Affairs (DCA). LOST (in LA) is located at the
Los Angeles Municipal Art Gallery
(LAMAG) at Barnsdall Art Park, a 36-acre hilltop former private estate and artists' colony, through January 27, 2013.
Didactic Art
Collection of Jim Shaw, Los Angeles
Photo: FLAX
---
Robert Mapplethorpe: XYZ

December 2012
by Susannah Tantemsapya
A selection of Robert Mapplethorpe's X, Y and Z Portfolios are at the Los Angeles County Museum of Art (LACMA) through March 24, 2013.
This exhibition highlights his three most important themes: homosexual sadomasochistic scenes (X, 1978), flower still lifes (Y, 1978) and portraits of African-American men (Z, 1981). All photographs are gelatin silver prints displayed "in three rows all in one mass" to exemplify Mapplethorpe's obsession with "perfection in form."
No stranger to controversy and censorship, Mapplethorpe's portfolios resulted in obscenity charges and a high profile trial in the late 1980s. Although the case ended in an acquittal, the debate about his sexually explicit work continues.
His mastery of the photographic medium is hard to argue against. The juxtaposition of his work is riveting, phallic in both its literal and metaphorical nature.
Y:
Z:

XYZ is exhibited in conjunction with the Getty Museum's In Focus: Robert Mapplethorpe. This is the first presentation of Mapplethorpe's work since the landmark joint acquisition by LACMA, The J. Paul Getty Museum and The Getty Research Institute in 2011. This collection includes over 1,900 editioned prints and over 1,000 non-editioned prints, 200 unique mixed-media objects, over 160 Polaroids, 120,000 negatives, and extensive working materials, ephemera and documents.

A younger generation recently discovered Mapplethorpe's legacy in Patti Smtih's autobiographical Just Kids (2010). Now both new and established audiences can look forward to a larger Mapplethorpe retrospective, jointly organized by LACMA and the Getty, planned for 2016.
---